Sing For America Took A Leap Of Faith To Provide FREE Theatre To The People Of The Lehigh Valley And Beyond!
Sing For America , The Lehigh Valleys most dynamic and diverse musical theatre company will be performing their theatrical magic live on the beautiful and

Iconic Levitt Pavilion Stage. Musical Theatre Mondays will be an exciting time for you to spend with your family and friends. Electric Monday nights and Steel Stacks will be alive with thousands of people in attendance over the 2018 ArtsQuest summer theatre season. People from all over will come to see to beauty and majesty of the timeless Disney tale of "The Little Mermaid". But wait, there's more.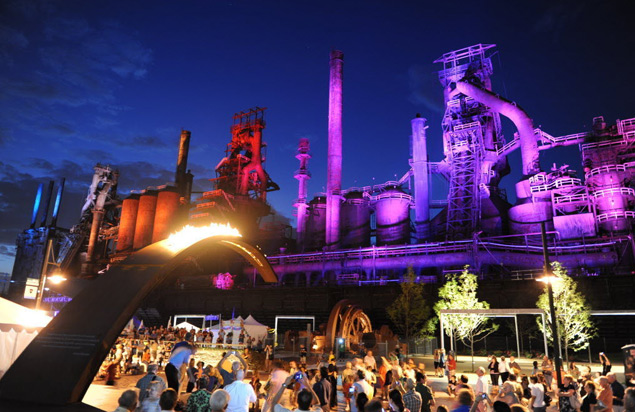 The audience will then be taken on a magical journey " Into The Woods" , this exciting Tony award winning production will be sure to deeply engage audiences of all ages. Sing For America will then mesmerize you with the Broadway smash hit " In the Heights" destined to elevate you to new levels with its potent, professional, star studded cast. The 2018 Summer Theatrical season at Steel Stacks Levitt Pavilion, produced and directed by the Lehigh Valleys own, Sing For America is sure to make you summer one you will never forget. Its SHOWTIME!!!

Willy Wonka And The Chocolate
Factory 2018
MAUCH CHUNCK OPERA
HOUSE
When we set out on a path to produce this all time favorite we hoped it would be special, it was even more than we hoped for. The 1971 film came to life on our stage, in a way that was unique and poignant for our Christmas MainStage production. The show left us remembering that 'We are the music makers, we are the dreamers of dreams' and a 'Good dead shines in a weary world'…..hopefully inspiring us all to let the gobstopper stay. 
Warner Brothers Studios granted Sing For America a single time license to produce the 1971 movie script live in Jim Thorpe , Pa!
Our 32 musical was difficult, challenging, and oh so rewarding. Calling for the magic of the story to come alive through the power of the cast and their connection. 
Ian Holmes
Ian Holmes: Willy Wonka
'I Haven't met the Oompa Loompa yet who could do it'
Ian Holmes was our very own Willy Wonka. Excited to have him the cast was energized by his performance
Payton's Story
YC Payton Brogna: Veruca Salt
SFA couldn't wait to see Payton become Veruca for the audience!
Nina's Story
YC Nina Worsley: Candy Confection
Nina was called on the lead many facets of the musical, her performance was exceptional!
Darian's Story
Darian Gaten: Oompa Loompa
We had a blast reimagining the oompa's for the stage, and Darian led the way. 
With One of our greatest Christmas show crowds we had over 1,800 in attendance
Thank You To Each Patron!
SFAP Has Made A Difference In The Lives Of Those Involved SFAP strives first and foremost to create a positive atmosphere in which to teach performers that they can achieve all that they dream. As a performer each person has the ability and the...
read more