Sing For America Took A Leap Of Faith To Provide FREE Theatre To The People Of The Lehigh Valley And Beyond!
Sing For America , The Lehigh Valleys most dynamic and diverse musical theatre company will be performing their theatrical magic live on the beautiful and

Iconic Levitt Pavilion Stage. Musical Theatre Mondays will be an exciting time for you to spend with your family and friends. Electric Monday nights and Steel Stacks will be alive with thousands of people in attendance over the 2018 ArtsQuest summer theatre season. People from all over will come to see to beauty and majesty of the timeless Disney tale of "The Little Mermaid". But wait, there's more.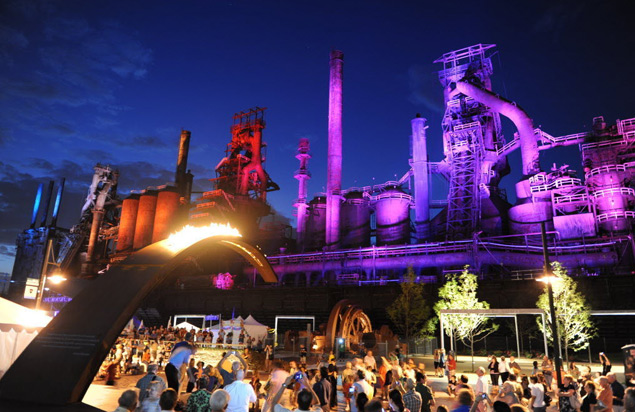 The audience will then be taken on a magical journey " Into The Woods" , this exciting Tony award winning production will be sure to deeply engage audiences of all ages. Sing For America will then mesmerize you with the Broadway smash hit " In the Heights" destined to elevate you to new levels with its potent, professional, star studded cast. The 2018 Summer Theatrical season at Steel Stacks Levitt Pavilion, produced and directed by the Lehigh Valleys own, Sing For America is sure to make you summer one you will never forget. Its SHOWTIME!!!

James And the giant peach Summer 2022
 ST Thomas More Church
James and the Giant Peach was a return to Summer Theatre in the place where so much 'Magic' has been made -the STM Auditorium. Actors from NY, LA, Dallas, and the LV united to raise money for our special beneficiary, Mercy School For Special Learning, and our continued mission, local military families.
SFA returned to Indoor Summer Theatre. With the spectacular 'James' Staring a phenomenal cast featuring actors Ja 'saih Young of 'Raising Dion' and talent from as far as LA
In SFA's 12th Summer Musical once again dreams came true as a family came together to create 'home' in the middle of a moment that lives on in everything that we are.