Sing For America Took A Leap Of Faith To Provide FREE Theatre To The People Of The Lehigh Valley And Beyond!
Sing For America , The Lehigh Valleys most dynamic and diverse musical theatre company will be performing their theatrical magic live on the beautiful and

Iconic Levitt Pavilion Stage. Musical Theatre Mondays will be an exciting time for you to spend with your family and friends. Electric Monday nights and Steel Stacks will be alive with thousands of people in attendance over the 2018 ArtsQuest summer theatre season. People from all over will come to see to beauty and majesty of the timeless Disney tale of "The Little Mermaid". But wait, there's more.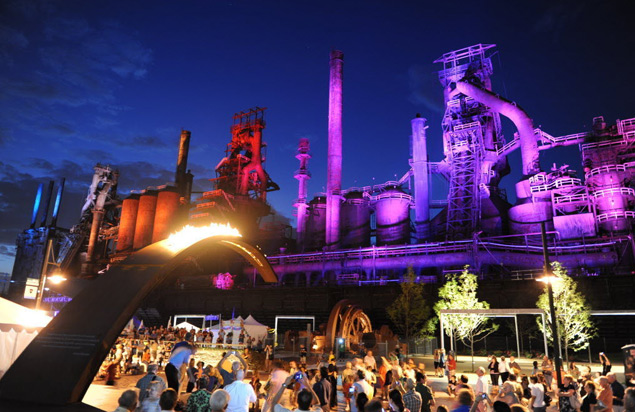 The audience will then be taken on a magical journey " Into The Woods" , this exciting Tony award winning production will be sure to deeply engage audiences of all ages. Sing For America will then mesmerize you with the Broadway smash hit " In the Heights" destined to elevate you to new levels with its potent, professional, star studded cast. The 2018 Summer Theatrical season at Steel Stacks Levitt Pavilion, produced and directed by the Lehigh Valleys own, Sing For America is sure to make you summer one you will never forget. Its SHOWTIME!!!
December: 21st 7:30 | 22nd 7:30 | 23rd 1:00                            
27th 7:30 | 28th 1:00 & 7:30 | 29th 7:30 | 30th 1:00 & 7:30 |  31st 1:00 |                             
January: 1st 2:00
Address: Westgate Mall, Bethlehem
Please call for all parking considerations, handicapped or otherwise
Narnia The musical is an extravagant adaptation of the amazing book which has gripped readers for generations. It's a series of stories loved by children and adults adapted into 3 major Motion Pictures including the most popular of all -"Narnia: The, Lion , The Witch, And The Wardrobe. It is coming to you live Dec 21st -January 1st. This performance will roar with triumph as a classic, capturing all of the 'Deep Magic' yet unique, new, and exciting. 
Our community needs Hope, we need Faith and Love, and that's why we chose Narnia, an adventure we can take together with our neighbors and family. The show will be staged at the Westgate Mall in Bethlehem, allowing SFA time to create the magic as Lehigh Valley theatres are crammed with bookings.
Individual show donations from lumber to ad time are down, and many people are facing struggles or are in times of crisis. We all need this show and it will take a big effort to create the spectacular. Narnia will be a hallmark of this Christmas season, and we need you there! Get tickets today.
I am [in your world].' said Aslan. 'But there I have another name. You must learn to know me by that name. This was the very reason why you were brought to Narnia, that by knowing me here for a little, you may know me better there."
― C.S. Lewis, The Chronicles of Narnia
This Christmas celebration could be something special. It's the time of year that connects our communities our families and deepest beliefs, our everything. The SFA Christmas musical has been a part of each season in the LV since 2011's performance of White Christmas and since then over 10,000 people have enjoyed this event. We love everything about it here at SFA: the freezing rehearsals, moving in carrying set pieces through snow, caroling, and hot chocolate.
Narnia the musical is what we need here in Bethlehem, Easton, Allentown, Jim Thorpe, Center Valley, the entire Lehigh Valley and greater are surrounding it. This is our home and all of our communities and greater community needs some unity and hope.
"Hearing the audience clap and cheer is a great feeling, but just knowing that you were able to share and let them be part of your story is something truly incredible."- Payton Brogna Young Company
read more